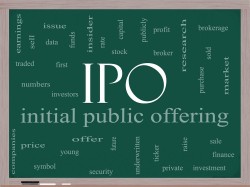 Upstart Holdings, Inc. (UPST) plans to raise $252 million in an initial public offering on Wednesday, December 16th, IPO Scoop reports. The company will be issuing 12,000,000 shares at $20.00-$22.00 per share.
In the last year, Upstart Holdings, Inc. generated $209.3 million in revenue and had a net loss of $1.1 million. The company has a market cap of $1.5 billion.
Goldman Sachs, BofA Securities and Citigroup served as the underwriters for the IPO and Jefferies, Barclays, JMP Securities and Blaylock Van were co-managers.
Upstart Holdings, Inc. provided the following description of their company for its IPO: "Our mission is to enable effortless credit based on true risk. We are a leading, cloud-based artificial intelligence lending platform. Artificial intelligence, or AI, lending enables a superior loan product with improved economics that can be shared between consumers and lenders. Our platform aggregates consumer demand for high-quality loans and connects it to our network of Upstart AI-enabled bank partners. Consumers on our platform benefit from higher approval rates, lower interest rates, and a highly automated, efficient, all-digital experience. Our bank partners benefit from access to new customers, lower fraud and loss rates, and increased automation throughout the lending process. Since inception, our bank partners have originated over 620,000 personal loans that have generated more than 9 million repayment events. In the nine months ended Sept. 30, 2020, approximately 70% of Upstart-powered loans were entirely automated. (Note: Revenue and net loss figures are for the last 12 months for the period ended Sept. 30, 2020, based on financial data in the prospectus.) Upstart was founded in 2012 by Dave Girouard, who previously was president of Google Enterprise, where he helped build Google's cloud applications business wordlwide; Anna M. Counselman, who previously was the head of Google's premium services and customer programs, and Paul Gu, who previously worked in risk analysis at the D.E. Shaw Group, a hedge fund. Mr. Gu's background is in quantitative finance. He built his first algorithmic trading strategies on the Interactive Brokers API at the age of 20. ".
Upstart Holdings, Inc. was founded in 2012 and has 429 employees. The company is located at 2950 S. Delaware Street, Suite 300 San Mateo, California 94403 and can be reached via phone at (650) 204-1000 or on the web at http://www.Upstart.com/.
Receive News & Ratings for Upstart Holdings Inc. Daily - Enter your email address below to receive a concise daily summary of the latest news and analysts' ratings for Upstart Holdings Inc. and related companies with MarketBeat.com's FREE daily email newsletter.