WESCO International (NYSE:WCC – Get Rating) announced its quarterly earnings data on Thursday. The technology company reported $4.19 earnings per share for the quarter, beating analysts' consensus estimates of $3.81 by $0.38, Briefing.com reports. WESCO International had a net margin of 3.45% and a return on equity of 19.75%. The company had revenue of $5.50 billion during the quarter, compared to analyst estimates of $5.31 billion. During the same quarter last year, the business posted $2.64 EPS. The firm's revenue for the quarter was up 19.7% on a year-over-year basis. WESCO International updated its FY 2022 guidance to $15.60-$16.40 EPS and its FY22 guidance to $15.60-$16.40 EPS.
WESCO International Trading Up 1.5 %
NYSE WCC opened at $132.44 on Friday. The company has a debt-to-equity ratio of 1.22, a quick ratio of 1.23 and a current ratio of 2.11. The company has a market capitalization of $6.72 billion, a price-to-earnings ratio of 10.95, a price-to-earnings-growth ratio of 0.83 and a beta of 2.15. The company's 50-day simple moving average is $116.78 and its two-hundred day simple moving average is $121.69. WESCO International has a one year low of $99.00 and a one year high of $144.43.
Institutional Inflows and Outflows
A hedge fund recently raised its stake in WESCO International stock. Neuberger Berman Group LLC lifted its position in WESCO International, Inc. (NYSE:WCC – Get Rating) by 4.3% during the first quarter, according to the company in its most recent filing with the Securities & Exchange Commission. The fund owned 55,479 shares of the technology company's stock after buying an additional 2,304 shares during the period. Neuberger Berman Group LLC owned approximately 0.11% of WESCO International worth $7,220,000 as of its most recent SEC filing. 92.83% of the stock is owned by hedge funds and other institutional investors.
Wall Street Analyst Weigh In
WCC has been the subject of a number of research analyst reports.
StockNews.com
lowered shares of WESCO International from a "buy" rating to a "hold" rating in a report on Thursday, July 21st. KeyCorp lifted their price objective on shares of WESCO International from $150.00 to $155.00 and gave the company an "overweight" rating in a report on Friday. One investment analyst has rated the stock with a hold rating, four have issued a buy rating and one has assigned a strong buy rating to the stock. Based on data from MarketBeat, the stock currently has an average rating of "Buy" and a consensus price target of $160.00.
WESCO International declared that its board has approved a share repurchase plan on Wednesday, June 1st that allows the company to buyback $1.00 billion in outstanding shares. This buyback authorization allows the technology company to buy up to 14.9% of its shares through open market purchases. Shares buyback plans are often a sign that the company's board believes its stock is undervalued.
About WESCO International
WESCO International, Inc provides business-to-business distribution, logistics services, and supply chain solutions in the United States, Canada, and internationally. It operates through three segments: Electrical & Electronic Solutions (EES), Communications & Security Solutions (CSS), and Utility and Broadband Solutions (UBS).
Read More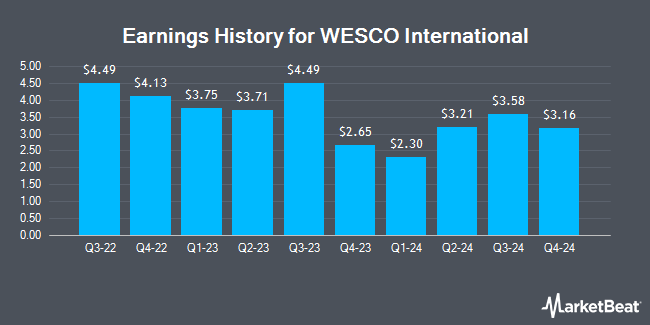 Receive News & Ratings for WESCO International Daily - Enter your email address below to receive a concise daily summary of the latest news and analysts' ratings for WESCO International and related companies with MarketBeat.com's FREE daily email newsletter.