Zomedica (NYSEAMERICAN:ZOM – Get Rating) posted its quarterly earnings data on Wednesday. The company reported ($0.01) EPS for the quarter, Yahoo Finance reports. Zomedica had a negative return on equity of 6.51% and a negative net margin of 104.92%. The firm had revenue of $6.16 million for the quarter, compared to analysts' expectations of $6.20 million.
Zomedica Stock Down 1.5 %
Shares of NYSEAMERICAN ZOM opened at $0.23 on Friday. Zomedica has a 1 year low of $0.15 and a 1 year high of $0.41.
Wall Street Analyst Weigh In
Separately, Dawson James assumed coverage on Zomedica in a report on Friday, January 6th. They issued a "buy" rating and a $6.00 price target for the company.
Institutional Inflows and Outflows
Several large investors have recently modified their holdings of ZOM. Swiss National Bank increased its position in Zomedica by 7.6% during the first quarter. Swiss National Bank now owns 2,201,200 shares of the company's stock worth $742,000 after buying an additional 156,100 shares during the period. BlackRock Inc. increased its stake in Zomedica by 5.6% in the first quarter. BlackRock Inc. now owns 13,418,299 shares of the company's stock valued at $4,523,000 after purchasing an additional 707,993 shares during the period. West Michigan Advisors LLC acquired a new stake in shares of Zomedica during the first quarter worth about $28,000. UBS Group AG grew its holdings in shares of Zomedica by 207.6% during the first quarter. UBS Group AG now owns 200,000 shares of the company's stock worth $67,000 after buying an additional 134,984 shares during the last quarter. Finally, Renaissance Technologies LLC purchased a new stake in Zomedica during the 2nd quarter valued at approximately $552,000. Institutional investors and hedge funds own 9.42% of the company's stock.
About Zomedica
Zomedica Corp., a veterinary health company, focuses on the unmet needs of clinical veterinarians by developing products for companion animals. The company engages in the development and commercialization of TRUFORMA platform, which offers point-of-care diagnostic products for disease states in dogs and cats; and PulseVet, provides for treatment of various musculoskeletal issues, such as broken bones, tendonitis, and torn ligaments in horses and small animals.
Further Reading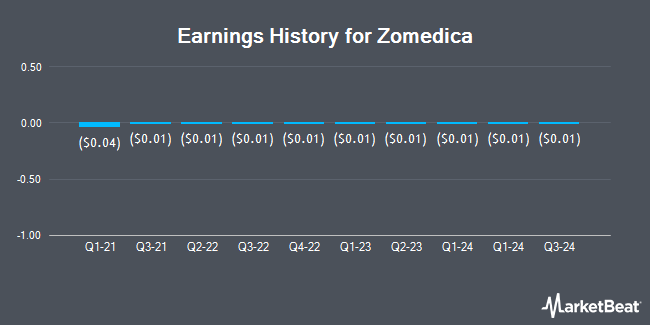 Receive News & Ratings for Zomedica Daily - Enter your email address below to receive a concise daily summary of the latest news and analysts' ratings for Zomedica and related companies with MarketBeat.com's FREE daily email newsletter.