Greif, Inc. (NYSE:GEF – Get Rating) SVP Tina R. Schoner acquired 1,000 shares of the firm's stock in a transaction on Friday, March 10th. The stock was purchased at an average price of $61.30 per share, with a total value of $61,300.00. Following the purchase, the senior vice president now owns 1,000 shares in the company, valued at approximately $61,300. The purchase was disclosed in a filing with the SEC, which is accessible through the SEC website.
Greif Stock Performance
Shares of GEF stock traded down $0.67 during trading hours on Friday, hitting $58.16. 357,748 shares of the company were exchanged, compared to its average volume of 193,130. The firm has a fifty day simple moving average of $68.57 and a 200 day simple moving average of $67.39. The company has a current ratio of 1.67, a quick ratio of 1.17 and a debt-to-equity ratio of 1.16. Greif, Inc. has a 52-week low of $57.10 and a 52-week high of $74.22. The stock has a market capitalization of $2.76 billion, a price-to-earnings ratio of 7.59, a P/E/G ratio of 1.12 and a beta of 0.99.
Greif (NYSE:GEF – Get Rating) last released its quarterly earnings data on Wednesday, March 1st. The industrial products company reported $1.06 EPS for the quarter, missing the consensus estimate of $1.26 by ($0.20). The business had revenue of $1.27 billion during the quarter, compared to the consensus estimate of $1.35 billion. Greif had a return on equity of 25.66% and a net margin of 7.53%. The firm's quarterly revenue was down 18.7% on a year-over-year basis. During the same period last year, the business posted $1.28 earnings per share. Research analysts predict that Greif, Inc. will post 5.43 earnings per share for the current fiscal year.
Greif Dividend Announcement
The firm also recently disclosed a quarterly dividend, which will be paid on Saturday, April 1st. Investors of record on Friday, March 17th will be issued a $0.50 dividend. This represents a $2.00 annualized dividend and a yield of 3.44%. The ex-dividend date is Thursday, March 16th. Greif's dividend payout ratio (DPR) is presently 26.11%.
Institutional Inflows and Outflows
Institutional investors and hedge funds have recently bought and sold shares of the business. Exchange Traded Concepts LLC bought a new position in Greif in the 3rd quarter worth approximately $29,000. Ronald Blue Trust Inc. boosted its holdings in Greif by 59.9% in the 4th quarter. Ronald Blue Trust Inc. now owns 491 shares of the industrial products company's stock valued at $30,000 after purchasing an additional 184 shares during the period. Freedom Wealth Alliance LLC bought a new position in Greif in the 4th quarter valued at $67,000. Wipfli Financial Advisors LLC bought a new position in Greif in the 3rd quarter valued at $61,000. Finally, Robeco Institutional Asset Management B.V. bought a new position in Greif in the 3rd quarter valued at $78,000. 47.25% of the stock is owned by institutional investors.
Analyst Upgrades and Downgrades
GEF has been the subject of several research analyst reports. StockNews.com initiated coverage on shares of Greif in a research note on Thursday. They set a "buy" rating for the company. Wells Fargo & Company raised their price target on shares of Greif from $63.00 to $69.00 and gave the stock an "equal weight" rating in a research note on Wednesday, November 30th. Two equities research analysts have rated the stock with a sell rating, one has assigned a hold rating and two have issued a buy rating to the company's stock. According to data from MarketBeat, the stock currently has an average rating of "Hold" and a consensus target price of $72.00.
About Greif
Greif, Inc engages in the production of industrial packaging products and services. It operates through the following segments: Global Industrial Packaging, Paper Packaging & Services, and Land Management. The Global Industrial Packaging segment involves the production of industrial packaging products, such as steel, fiber & plastic drums, rigid & flexible intermediate bulk containers, closure systems for industrial packaging products, transit protection products, water bottles, and remanufactured & reconditioned industrial containers.
Read More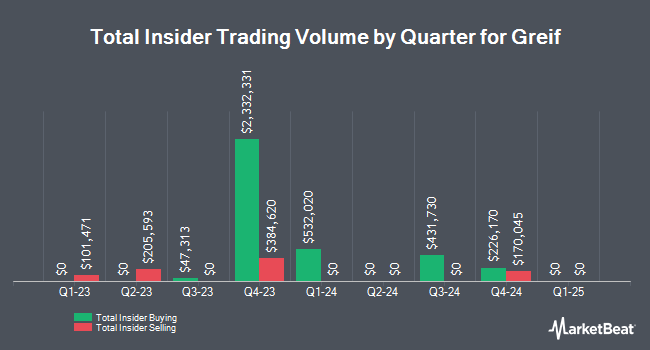 Receive News & Ratings for Greif Daily - Enter your email address below to receive a concise daily summary of the latest news and analysts' ratings for Greif and related companies with MarketBeat.com's FREE daily email newsletter.