Veritex Holdings, Inc. (NASDAQ:VBTX – Get Rating) insider Cara Mcdaniel purchased 1,000 shares of the firm's stock in a transaction that occurred on Monday, March 13th. The shares were bought at an average cost of $17.71 per share, for a total transaction of $17,710.00. Following the completion of the acquisition, the insider now directly owns 4,620 shares in the company, valued at approximately $81,820.20. The transaction was disclosed in a document filed with the SEC, which is available through this hyperlink.
Veritex Stock Down 3.0 %
Shares of NASDAQ:VBTX opened at $18.93 on Friday. The firm has a market cap of $1.03 billion, a P/E ratio of 6.99 and a beta of 1.47. Veritex Holdings, Inc. has a 12-month low of $16.86 and a 12-month high of $41.37. The business has a fifty day simple moving average of $26.71 and a 200 day simple moving average of $28.50. The company has a quick ratio of 1.06, a current ratio of 1.06 and a debt-to-equity ratio of 0.97.
Veritex (NASDAQ:VBTX – Get Rating) last issued its quarterly earnings data on Tuesday, January 24th. The financial services provider reported $0.74 earnings per share (EPS) for the quarter, missing analysts' consensus estimates of $0.87 by ($0.13). The company had revenue of $120.40 million for the quarter, compared to the consensus estimate of $121.22 million. Veritex had a return on equity of 10.31% and a net margin of 29.13%. Veritex's revenue was up 29.6% compared to the same quarter last year. During the same quarter last year, the business earned $0.84 earnings per share. Analysts predict that Veritex Holdings, Inc. will post 3.2 earnings per share for the current year.
Veritex Announces Dividend
The company also recently declared a quarterly dividend, which was paid on Friday, February 24th. Stockholders of record on Friday, February 10th were given a $0.20 dividend. The ex-dividend date of this dividend was Thursday, February 9th. This represents a $0.80 dividend on an annualized basis and a dividend yield of 4.23%. Veritex's dividend payout ratio (DPR) is currently 29.52%.
Institutional Investors Weigh In On Veritex
A number of institutional investors have recently modified their holdings of VBTX. CWM LLC boosted its holdings in shares of Veritex by 65.7% during the 4th quarter. CWM LLC now owns 1,077 shares of the financial services provider's stock worth $30,000 after buying an additional 427 shares in the last quarter. Point72 Middle East FZE acquired a new position in shares of Veritex during the 4th quarter valued at $31,000. Lazard Asset Management LLC bought a new position in Veritex during the first quarter worth $33,000. Point72 Hong Kong Ltd acquired a new stake in Veritex in the first quarter worth $41,000. Finally, Coppell Advisory Solutions Corp. bought a new stake in Veritex in the fourth quarter valued at $41,000. 85.86% of the stock is owned by institutional investors.
Analysts Set New Price Targets
VBTX has been the topic of a number of research reports. Raymond James cut shares of Veritex from an "outperform" rating to a "market perform" rating in a research note on Thursday, January 5th. Hovde Group reduced their price objective on Veritex to $39.00 in a research report on Wednesday, December 14th. StockNews.com upgraded Veritex from a "sell" rating to a "hold" rating in a research report on Saturday, March 11th. Piper Sandler reduced their price target on Veritex from $36.00 to $32.00 and set an "overweight" rating on the stock in a report on Thursday, January 26th. Finally, Stephens dropped their price objective on shares of Veritex from $33.00 to $31.00 in a report on Thursday, January 26th.
Veritex Company Profile
Veritex Holdings, Inc engages in the provision of commercial banking products and services to small to medium-sized businesses and professionals. It offers personal and business banking products, mortgages, and treasury services. The company was founded by Charles Malcolm Holland III in June 2009 and is headquartered in Dallas, TX.
Recommended Stories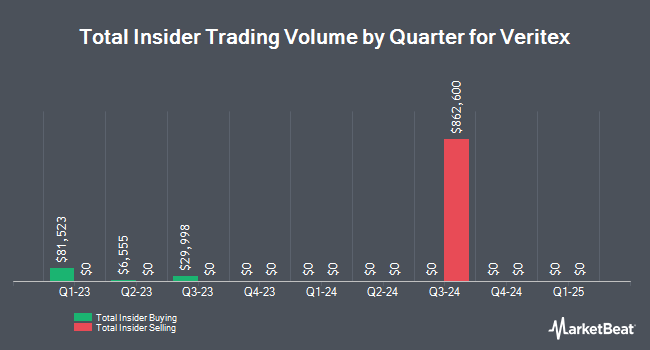 Receive News & Ratings for Veritex Daily - Enter your email address below to receive a concise daily summary of the latest news and analysts' ratings for Veritex and related companies with MarketBeat.com's FREE daily email newsletter.