PetMed Express (NASDAQ:PETS – Get Rating) posted its earnings results on Monday. The company reported ($0.25) earnings per share for the quarter, missing analysts' consensus estimates of $0.14 by ($0.39), MarketWatch Earnings reports. The business had revenue of $62.41 million during the quarter, compared to analyst estimates of $69.93 million. PetMed Express had a return on equity of 4.77% and a net margin of 0.09%. During the same quarter in the prior year, the company earned $0.30 EPS.
PetMed Express Trading Up 3.4 %
Shares of NASDAQ PETS opened at $15.70 on Wednesday. The firm has a market cap of $330.96 million, a price-to-earnings ratio of 785.39 and a beta of 0.64. The stock has a fifty day simple moving average of $15.72 and a two-hundred day simple moving average of $18.03. PetMed Express has a 1-year low of $14.05 and a 1-year high of $24.01.
PetMed Express Announces Dividend
The firm also recently disclosed a quarterly dividend, which will be paid on Monday, June 12th. Shareholders of record on Tuesday, June 6th will be paid a $0.30 dividend. The ex-dividend date of this dividend is Monday, June 5th. This represents a $1.20 dividend on an annualized basis and a yield of 7.64%. PetMed Express's dividend payout ratio (DPR) is presently 6,003.00%.
Institutional Trading of PetMed Express
Hedge funds have recently made changes to their positions in the company. Atria Wealth Solutions Inc. bought a new stake in shares of PetMed Express in the second quarter valued at $246,000. Bank of Montreal Can bought a new stake in shares of PetMed Express during the 1st quarter valued at $236,000. Alliancebernstein L.P. bought a new stake in shares of PetMed Express during the 4th quarter valued at $204,000. Truist Financial Corp bought a new position in PetMed Express in the 4th quarter worth about $183,000. Finally, XTX Topco Ltd bought a new position in PetMed Express in the 1st quarter worth about $173,000. 77.74% of the stock is currently owned by institutional investors.
Analyst Ratings Changes
Several analysts have recently commented on the company. Morgan Stanley lowered their price objective on PetMed Express from $18.00 to $17.00 and set an "underweight" rating for the company in a research note on Thursday, March 23rd. StockNews.com began coverage on PetMed Express in a research note on Thursday, May 18th. They set a "hold" rating on the stock.
PetMed Express Company Profile
PetMed Express, Inc engages in the provision of markets prescription and non-prescription pet medications, health products and supplies for dogs and cats. Its non-prescription medications include flea and tick control products, bone and joint care products, vitamins, treats, nutritional supplements, hygiene products, and supplies.
Read More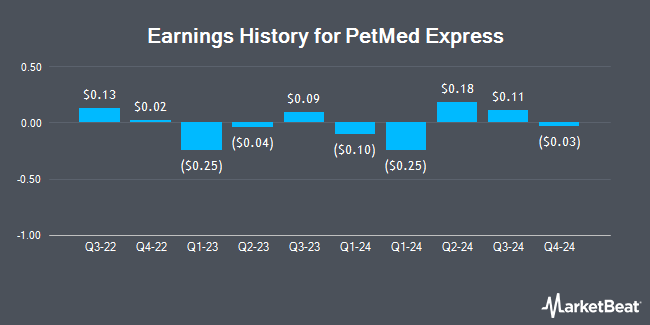 Receive News & Ratings for PetMed Express Daily - Enter your email address below to receive a concise daily summary of the latest news and analysts' ratings for PetMed Express and related companies with MarketBeat.com's FREE daily email newsletter.