Federated Hermes, Inc. (NYSE:FHI – Get Rating) VP Paul A. Uhlman sold 995 shares of the firm's stock in a transaction on Friday, May 26th. The shares were sold at an average price of $35.39, for a total transaction of $35,213.05. Following the completion of the transaction, the vice president now directly owns 369,078 shares of the company's stock, valued at $13,061,670.42. The transaction was disclosed in a document filed with the Securities & Exchange Commission, which is available at this link.
Federated Hermes Stock Up 2.2 %
FHI traded up $0.76 during mid-day trading on Friday, reaching $36.06. 1,032,645 shares of the stock were exchanged, compared to its average volume of 879,334. The company has a debt-to-equity ratio of 0.31, a quick ratio of 2.23 and a current ratio of 3.00. The stock has a market capitalization of $3.23 billion, a PE ratio of 12.47 and a beta of 1.05. The company has a 50 day moving average price of $39.93 and a two-hundred day moving average price of $38.67. Federated Hermes, Inc. has a 1 year low of $28.69 and a 1 year high of $45.55.
Federated Hermes (NYSE:FHI – Get Rating) last posted its quarterly earnings data on Thursday, April 27th. The company reported $0.78 earnings per share (EPS) for the quarter, topping analysts' consensus estimates of $0.74 by $0.04. The firm had revenue of $382.20 million for the quarter, compared to the consensus estimate of $390.85 million. Federated Hermes had a net margin of 16.85% and a return on equity of 27.83%. The business's revenue for the quarter was up 17.7% compared to the same quarter last year. During the same period in the previous year, the firm earned $0.61 EPS. As a group, research analysts anticipate that Federated Hermes, Inc. will post 3.28 EPS for the current year.
Federated Hermes Increases Dividend
The firm also recently announced a quarterly dividend, which was paid on Monday, May 15th. Stockholders of record on Monday, May 8th were paid a dividend of $0.28 per share. This represents a $1.12 dividend on an annualized basis and a dividend yield of 3.11%. This is a boost from Federated Hermes's previous quarterly dividend of $0.27. The ex-dividend date was Friday, May 5th. Federated Hermes's payout ratio is presently 39.58%.
Institutional Investors Weigh In On Federated Hermes
A number of hedge funds have recently made changes to their positions in the business. Hazlett Burt & Watson Inc. bought a new stake in shares of Federated Hermes during the first quarter valued at about $25,000. Global Retirement Partners LLC increased its position in shares of Federated Hermes by 85.7% during the first quarter. Global Retirement Partners LLC now owns 767 shares of the company's stock valued at $31,000 after buying an additional 354 shares during the period. WealthPLAN Partners LLC purchased a new position in shares of Federated Hermes during the first quarter worth about $40,000. Mitsubishi UFJ Trust & Banking Corp purchased a new position in shares of Federated Hermes during the first quarter worth about $42,000. Finally, CENTRAL TRUST Co grew its holdings in shares of Federated Hermes by 310.8% during the third quarter. CENTRAL TRUST Co now owns 1,520 shares of the company's stock worth $50,000 after purchasing an additional 1,150 shares in the last quarter. 78.82% of the stock is currently owned by institutional investors.
Wall Street Analyst Weigh In
A number of equities analysts have commented on FHI shares. Deutsche Bank Aktiengesellschaft lifted their price objective on shares of Federated Hermes from $44.00 to $45.00 in a research report on Monday, May 1st. Evercore ISI boosted their target price on Federated Hermes from $43.00 to $45.00 and gave the stock an "outperform" rating in a research note on Thursday, April 13th. StockNews.com assumed coverage on Federated Hermes in a report on Thursday, May 18th. They set a "buy" rating on the stock. Finally, JPMorgan Chase & Co. upgraded Federated Hermes from an "underweight" rating to an "overweight" rating and upped their target price for the company from $35.00 to $47.00 in a report on Tuesday, April 11th. One equities research analyst has rated the stock with a hold rating and five have issued a buy rating to the stock. According to data from MarketBeat, Federated Hermes currently has an average rating of "Moderate Buy" and a consensus target price of $42.40.
Federated Hermes Company Profile
Federated Hermes, Inc is engaged in the provision of investment management products and related financial services. It sponsors, markets and provides investment-related services to sponsored investment companies, federated funds, and separate accounts which include separately managed accounts, institutional accounts, sub-advised funds and other managed products in both domestic and international markets.
Featured Articles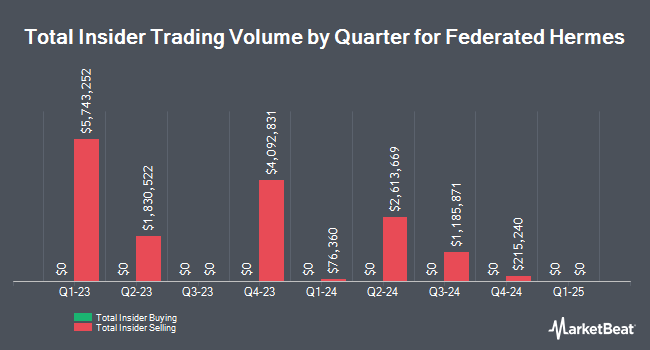 Receive News & Ratings for Federated Hermes Daily - Enter your email address below to receive a concise daily summary of the latest news and analysts' ratings for Federated Hermes and related companies with MarketBeat.com's FREE daily email newsletter.